the Álvarez Chamber Orchestra

An International Voice for Contemporary Music

Founder President: Sir Colin Davis

CH, CBE

Honorary Vice President: Maestro Zygmunt Krauze

Conductor: Dr Geoffrey Álvarez

Music must reveal as simply as possible the emotions of the heart.

Time may change the technique of music, but cannot alter its fundamental mission. sergei Rachmaninov

Sir Colin Davis was a figure many of us looked up to for both musical inspiration, insights into issues such as 'authentic' performance, and the view that one must have a wide cultural education to be a great musician - 'music doesn't feed itself'. I am grateful for the support Sir Colin gave us and we are poorer for his passing, but still rich in recordings of inspiring fiery performances.

Initially formed in 1979 as an informal amateur ensemble of musicians from the National Youth Orchestra of Great Britain, the City of London School and the Ernest Read Music Association, the Álvarez Chamber Orchestra initially gave concerts in St. John's Smith Square and St. Giles Cripplegate with artists like clarinettist Michael Collins and oboist Nicholas Daniel who premiered works by Geoffrey Álvarez including Montage (1979) for clarinet, horn and orchestra with the horn player Peter Kronheimer FRS and an Oboe Concerto (1985). The orchestra attracted funding from groups as diverse as Pepsi Cola, the Worshipful Company of Musicians and the Hinricshen Foundation. An article on the orchestra appeared in the Observer Colour Supplement, and both the press and composers such as Barry Anderson and Wilfred Josephs - who wrote to Geoffrey Álvarez - received it favourably. 'Fantastic ear' Barry Anderson, 'formidable technique' Michael Finnissy.

2007 has seen the launch of the Álvarez Chamber Orchestra as a Registered Charity. The Álvarez Chamber Orchestra is committed to the performance of contemporary music from around the world by musicians who are technically assured, engaging and passionate in their enthusiasm for innovative and stimulating programmes of music of both imagination and substance. By employing artists principally from the United Kingdom, but augmented with guests from both Europe and further afield of the highest calibre, a cultural dialogue and interplay is engendered which lends a unique voice to this Pan-Global Ensemble.

In the 2008 season celebrating the music of England and Poland detailed below, for instance, Elżbieta Baklarz, International Liaison Officer for the orchestra, returned with musicians from the renowned Polish Orkiestra Sinfonietta Cracovia to work with The Álvarez Chamber Orchestra again, already heard to great acclaim at the launch of the season at the Embassy of the Republic of Poland in January.

In addition to performing and commissioning new works from living composers such as Burrell, Krauze and Schaeffer, the latter already having written one important work for the ACO, significant composers no longer living, such as Berio, Gerhard, Williamson, Tansman and Tippett will also be programmed. European and world-wide tours are also seen as integral to cultural enrichment through diversity and internationalism.

Performance and creativity of the highest quality will also be large components of ACO education projects on both a local, national and international level and will include the awarding of bursaries to gifted students to play with the orchestra and composition competitions with no age or national restrictions. Such prestigious International projects will encourage the pursuit of excellence in much the same way as the cross-fertilisation of musicians from the Netherlands and Italy contributed to the richness, diversity and quality of the Renaissance, effectively contributing to the new 'Golden Age' that Sir Brian MacMaster writes of in his recent DCMS report. The ACO is grateful for the use of the Digby Chapel at Roehampton University for rehearsals in November 2008 in preparation for the season the same year. Professor Paul O'Prey, Vice Chancellor of Roehampton University wrote of these concerts:
Congratulations on an excellent concert, which I enjoyed very much - and I'm glad you are working so fruitfully with colleagues.
Details of the forthcoming ACO Prize As you like it
Previous season: Northern Ayres - an Anglo-Polish Celebration
This season was launched at the Polish Embassy on 16th January, 2008. The event was distinguished by the World Premiere of a new work Maestro Boguslav Schaeffer has just (5th December, 2008) written for harpist Elzbieta Baklarz and violinist Maciej Lulek with the imaginatively appropriate title Fur Elise.
Dr Julian Faultless wrote to Geoffrey Álvarez on 18.01.2008
It was a great occasion on Wednesday and your pieces were particularly brilliant and powerful. I was very pleased to hear the Álvarez take on postmodernism - you absolutely kept your integrity and your handling of notes was extremely impressive. You put to shame the many famous names who peddle empty gestures.
Attending the final rehearsal earlier in the day at the Polish Embassy, Lady Panufnik, FRSP wrote the following:
The rehearsals allowed me to get a good impression of your very interesting programme and I was most impressed by your own music and by your performances. I look forward to hearing more of your music.
The 2008 season of the Álvarez Chamber Orchestra concentrated on British and Polish Music and two important composers who are celebrated significant birthdays: Diana Burrell will be 60 and Zygmunt Krauze, 70. Polish composer Zygmunt Krauze has generously offered to play the piano parts in his works. The works by Zygmunt Krauze were chosen by the composer himself in consultation with Geoffrey Álvarez. Maestro Zygmunt Krauze studied piano with Maria Wilkomirska and composition with Kazimierz Sikorski at the Chopin Academy of Music in Warsaw then in Paris with Nadia Boulanger (1966-67) as a holder of French government scholarship. In 1957 he was awarded First Prize at the All-Polish Contemporary Competition in Łódź, in 1966 - first Prize at the International Competition of Gaudeamus Foundation in Holland.
In the U.S. Zygmunt Krauze taught piano at the Cleveland State University, in France he was an artistic adviser at IRCAM and in Berlin he was an artist in residence. From 1987 to 1989 he served as President of the International Society for Contemporary Music. He was decorated with the Silver Cross of Merit in Poland in 1975, and in 1984 in France he was awarded the title of Chevalier dans l'ordre des Arts et des Lettres. In 1988 he won the annual prize of the Polish Composers Union and in 1989 the Prize of the Ministry of Culture in Poland. In 2006 he served as juror for the Tansman 6th International Competition of Musical Personalities, Composers Competition, Łódź 2006 where he met Geoffrey Álvarez.
Mr. Krauze wears enough hats to drive a Lewis Carroll hatter mad. Avant-grade pianist, of the distant far-out, composer, focus of an upcoming Polish television film series, and head of a modern chamber group, he has the mercury fingers, astute ear, and droll lack of inhibition that invite other composers to write for him, too.
His piano is a precious thing, different from the 88 keys our teachers showed us - virgin territory for creating infinite sounds and fertile ground for adding them together. A performance becomes a theater, sometimes absurdist. And the performer, an explorer who plays a creative role in making music decisions.
Chicago Tribune, 27 IV 1972
Zygmunt Krauze with Stravinsky and Luciano Berio recording of television series Sound And Silence, Katowice, 1989
Zygmunt Krauze with Geoffrey Álvarez and members of the ACO at Roehampton University, London, 2008
Like Zygmunt Krauze, Diana Burrell's music is well known internationally, both in the campus and the concert hall. She has also made significant contributions to musical life in England, most recently as director of the Spitalfields Festival, and now as the recipient of an Arts and Humanities Research Council Fellowship in collaboration with the Royal Academy of Music, where she will be creating new and innovative repertoire with a particular emphasis on the organ. Her music has a strong sense of timbre – an instance of which is her use of three anvils, or 'other heavy metal chunks', in Black. Starlight. Bright. Cinnamon. Earth., and the boldness of gesture and her vivid palette is suggestive of the late collages of Matisse. Whether composing works such as Anima, which was written especially for Coma - Contemporary Music Making for Amateurs - or her Symphonies of Flocks, Herds and Shoals (1995-6) which was fulfilling a commission from the BBC Symphony Orchestra, Diana's voice remains her own, articulating, in her own words, 'strong, rough-edged things, brave disrespectful shapes and sounds...', with conviction and dramatic flair at all times.
In February 2007 Geoffrey Álvarez and secretary Phillip Costen were invited to Paris by L'Association des Amis d'Alexandre Tansman to discuss several projects involving the music of that eminent composer and friend of Stravinsky and Ravel, including the choice of scores for forthcoming performances with publisher Gérald Hugon and Tansman's daughters Mesdames Mireille Tansman Zanuttini and Marianna Tansman Martinozzi, all of whom make major contributions running the Tansman Association.
Aleksander Tansman
Aleksander Tansman - composer, conductor and pianist - was born in Łódz, 1897 and died in Paris, 1986. His compositional personality reflects many aspects of his life: his Polish nationality, his love of France, his close friendships with composers such as Prokofiev, Ravel, Stravinsky and Gershwin, the conductors with whom he worked, such as Koussevitzky and Toscanni, the guitarist Segovia, and luminaries in other disciplines such as Charlie Chaplin, Gide and Einstein all have some bearing on his very individual style and choice of medium; his neo-classicism resulting from his great admiration for Stravinsky, and his many works for guitar owing something to his association with Segovia, for instance.
The other aspect of his compositional personality was an expression of his Jewish heritage, and resulted in the opera Sabbatai Zevi, le faux Messie (1958). However, he was always cared deeply about his kraj rodzinny, his 'home country'; in 1980 he wrote Mazurka for Lech Walesa.
Tansman was also very generous, which was reflected both in his professional and family life: he worked with Gershwin on the orchestration of An American in Paris, even going as far as to take Gershwin to listen to the Parisian car horns which became such a characteristic feature of the work and he introduced Villa-Lobos, Varèse and Szymanowski to his publisher Max Eschig. His family commitments were no less earnest: when his wife, the pianist Colette Cras died after a devastating illness, he restricted his concertising so he could care for his two daughters.
As well as contributing important works to the chamber, symphonic and concerto repertoire, Tansman collaborated on other projects within a huge spectrum, from the Adam and Eve movement of the symphonic cantanta The Genesis Suite with Schoenberg, Milhaud, Toch and Stravinsky to the film score of The Bargee by British comedy writers Galton and Simpson starring Harry H Corbett. Tansman, in an interview with Yves Hucher in 1949, adopts an aesthetic viewpoint that could be the credo for the Álvarez Chamber Orchestra:
Don't say modern, .say 'contemporary music'. There is an aesthetic confusion between the two which absolutely must be avoided. Incidentally, this is also the view of Hindemith, with whom I spent a week in London, and of Stravinsky, who wrote to me about this quite recently. I think we have to avoid trying for the shock effect, the deliberate originality which one finds in 'modern music' where inspiration and constructive effort ought to be instead… I would say that an artist has to take control of his material, filter his work and be very wary of the "system", which is the great enemy of art, because it mistakes anarchy for freedom

(Yves Hucher: Le Guide du Concert 11 November 1949)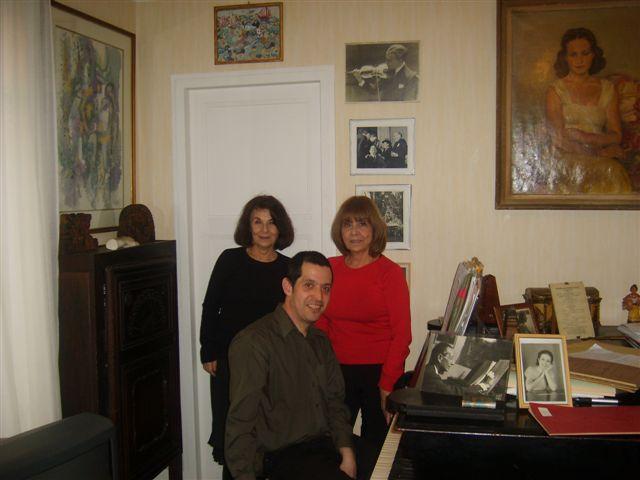 Geoffrey Álvarez with Mmes Mireille Tansman Zanuttini and Marianna Tansman Martinozzi
at their father's piano, the composer Aleksander Tansman, in Paris.
The British flautist Rehana Browne, who initially studied with the Curriculum Manager/Head of Woodwind for the Centre for Young Musicians, Francesca Hanley, and currently with Simon Channing was the soloist in Diana Burrell's Flute Concerto. Rehana is 17 and in 2004 was awarded a Government Music and Dance scholarship to study at the Purcell School where she plays principle flute in the Purcell Symphony Orchestra, conducted by Sir Simon Rattle. She is currently a member of the National Youth Orchestra of Great Britain playing under the Álvarez Chamber Orchestra president, Sir Colin Davis amongst other illustrious conductors such as Sir Neville Mariner and Gianadrea Noseda. Rehana has won various prizes including Brent Young Musician of the Year, The Junior Royal Academy Wind Prize and 'The most outstanding wind performance' at the Marlow Music Festival.
The season was bought to a virtuosic conclusion with the Tansman Clarinet Concerto, played by Alison Turriff. Alison received her undergraduate degree in Cardiff, Wales at the Royal Welsh College of Music and Drama studying under the Principal clarinettist from the Welsh National Opera, Leslie Craven. It was here that she received a high first in her final recital and in addition to this, presented the first extended piece of writing in English about the "Traditional Music from the Catalan-Speaking Areas of Spain" as her degree dissertation. Alison was able to carry out field work in this area thanks to her being chosen to take part in an ERASMUS exchange at the Escola Superior de Musica de Catalunya in Barcelona, whilst continuing her clarinet studies there under world-renowned soloists Joan Enric Lluna and Harry Spaarnay.Alison has taken part in many national and international competitions with many successes, most recently at the Glasgow Music Festival where she won the Premiere award for wind and brass, the Allie Cullen memorial prize and the John Fyfe Trophy for the "most outstanding performance of the competition". Alison is currently completing her Master of Music degree at Trinity College of Music, London, thanks to the generous support from the Alfred Foster Charitable Settlement, the Thomas & Margaret Roddan Trust, in addition to a Trinity College London Scholarship.
As well as her solo and orchestral engagements, Alison has performed with the Andralison Trio who were selected as finalists in the Cavatina Chamber Music Competition, in which Alison also was the only wind player. Alison has taken part in numerous master classes throughout the UK and abroad with clarinetists such as Phillipe Cuper (Principal clarinetist, Paris Opera), Charles Neidich (Professor, The Juilliard School) and James Campbell (Professor, Indiana University) to name but a few.Alison also records extensively and recently took part in a recording of three wind Symphonies by Alan Hovhaness under the baton of American conductor Keith Brion for the publishing label, Naxos.Alison has a particular interest in Polish contemporary repertoire and as a result has conducted extensive research, which is currently being published, into the folklore influences within Witold Lutosławski's early works and in particular his Preludia Taneczne.
Geoffrey Álvarez
In November 2006, Geoffrey Álvarez returned from Poland as a prize winning finalist and soloist with the Arthur Rubenstein Łódź Philharmonic Orchestra in theFinal of the Tansman 6th International Competition of Musical Personalities, Composers Competition, Łódź 2006.
Geoffrey Álvarez was a Worshipful company of Musicians scholar at the City of London School, a Leverhulme scholar at the Royal Academy of Music, and held a British Academy Studentship at the University of York, concurrently winning a composition prize in the Royal Overseas League Competition (1990). He is currently serving as a committee member of the Incorporated Society of Musicians Performers and Composers Section.
Whilst at York, Geoffrey Álvarez continued conducting, helping to rebuild the University of York's new music ensemble, Anemone, for which he was chairman for two years conducting such works as Boulez' Éclat and Wilfred Mellers' Eclogue and numerous premieres, including Roger Marsh's Music for Piano and Wind and David Collins Patagonia. Whilst receiving favourable notices in the Yorkshire press for his performances with the main university orchestras, his completion of Mozart's Bastien and Bastienne received international press attention when acclaimed by The European when heard at the inauguration of the new opera house in Ackergill Tower as part of the Northlands Festival in Wick in 1994.
Works by Geoffrey Álvarez in the 2008 season.
My Last Muse
My Last Muse is a song-cycle setting poems Graves wrote inspired by his 'last Muse', the dancer/choreographer Julia Simonne, who acted as advisor to the project. Geoffrey Álvarez gave a paper on this work at the Robert Graves Society's international conferenceat St. John's College, Oxford in September 2008. The distinguished bass soloist was Patrick Ardagh-Walter accompanied by equally distinguished guitarist Timothy Walker.
Patrick Ardagh-Walter and Timothy Walker
Sinfonia tempano
Sinfonía témpano received this review on his Sibeliusmusic website:
Intense

At last something on Sibelius Music without a key signature! Here we have a modern and slightly difficult-sounding work which requires at least a couple of listen-throughs to get to grips with. The string-writing is not ridiculously complex and could probably be managed by a semi-professional lineup with a few rehearsals.

I like the novelty of adding a little percussion to the ensemble (somehow reminiscent of Bartok). The composer uses polyphonic as well as homophonic devices all to good effect and I think this piece would go down really well on a big stage such as The Proms.

The work has a thoroughly professional and assured touch and deserves a major premiere somewhere. Strongly recommended.
Northern Ayres: an Anglo-Polish Celebration
Programme
Pre-concert talks from 6.30-7.00 were given by

Aleksander Tansman's daughters Mesdames

Mireille Tansman Zanuttini and Marianna Tansman Martinozzi with conductor and composer Geoffrey Álvarez

and composers Diana Burrell, Zygmunt Krauze with virtuoso violinist Madeleine Mitchell

.
Programme 15th November: Terra incognita
Pre-concert talk given by

Aleksander Tansman's daughters Mesdames

Mireille Tansman Zanuttini and Marianna Tansman Martinozzi with conductor and composer Geoffrey Álvarez.

Zygmunt Krauze: Terra Incognita for 10 strings and piano (1994) †

Diana Burrell: Black. Starlight. Bright. Cinnamon. Earth. for chamber ensemble (2000)

Aleksander Tansman: Sinfonietta n° 2 for chamber orchestra (1978) †

Geoffrey Álvarez: My Last Muse 5 poems by Robert Graves for baritone and orchestra (2000) *

Zygmunt Krauze: Piano Quintet (Kwintet fortepianowy) (1993)

Geoffrey Álvarez: Fantasia on Tansman´s Last Theme: Alla Polacca for strings (2007) *
Programme 16th November: La naissance
Pre-concert talk given by

composers Diana Burrell, Zygmunt Krauze with virtuoso violinist Madeleine Mitchell

.

Zygmunt Krauze: Quatuor pour la naissance (1984)

Aleksander Tansman: Diptyque for chamber orchestra (1969) †

Geoffrey Álvarez: Stary Cmentarz Żydowski w Łodzi for strings (2007) *

Diana Burrell: Flute Concerto for chamber orchestra (2001)

Zygmunt Krauze: Arabesque for piano solo and instrumental ensemble (1983) †

Geoffrey Álvarez: Sinfonía Témpano for string orchestra (2007) *

Aleksander Tansman: Clarinet Concerto (1957) † *World Premiere †UK Premiere
Future projects include the performance of Tansman's music for harp, guitar and chamber orchestra, the possible completion of Tansman's unfinished Album d'Israël, for chamber orchestra (1957-1958), of which five movements have already been orchestrated, the remaining movements existing only in piano score. This will be discussed in Paris with L'Association des Amis d'Alexandre Tansman.
Should you wish to encourage the future of the orchestra, there are several options:
Join the givingabit.com community specifying The Alvarez Chamber Orchestra as your chosen charity and the ensemble will receive a proportion of the purchase price of many items and services.
Alternatively you may make specific donations directly:
Donations from as little as £20-£100 will ensure you receive information about the orchestra whilst any donations of £3,000 and above will, in addition, ensure that you receive ten free tickets, a complimentary buffet in the VIP enclosure at the end of the concert, and prominent acknowledgement on all programmes and publicity. Mid-range donors contributing up to £3000 will receive five free tickets. Any beneficiary generous enough to fund an entire concert series will have access to occasional rehearsals (with the permission of the performers), and fifteen complimentary tickets for each performance.
Payment may be made in cash or cheques (in pounds sterling) and should be made payable to

The

Álvarez

Chamber

Orchestra

and sent to the registered company address given below. Donations may also be made using Paypal:
Those of you who are liable to pay UK tax, may increase your donation by 28% by completing the Gift Aid Form.
Practical as well as financial assistance is also welcomed: the director of the Jewish Music Institute, Geraldine Auerbach MBE, for instance, arranged rehearsal space at SOAS prior to the launch at the Embassy of the Republic of Poland.
Supporters of the 2008 Season
RVW TRUST


Apex Arts, TimothyBrailsford, Beryl Álvarez, Phillip Costen, Lord Detchant, Lady Goodhart,
Lois Graessle, Jack Finesilver, Timothy Foster, James Hancock, Trevor Huntley, Gillie Johnson, Patricia McEllister, Gareth Marshall, Rose Martinez,
Raymond Morris, Alison Murdoch, Dominici Saunders, Alan Sillitoe, Terence Sinclair, Simon Speare, Joyce Stanborough, Richard Sweden, Neil Vinall

Links
Chat to members of the ACO, discuss ideas, information about workshops etc.
The Álvarez Chamber Orchestra is a Registered Charity No. 1120668 and a
Company Limited by Guarantee No. 6227728. Registered in England and Wales.
Registered Office: 5 Rensburg Road London E17 7HL
Accountants: Findlay Wetherfield Scott & Co. Ltd., Heather Dhondy
Solicitor: Peter Korn of Interchange Legal Advisory Service
Trustees: Dr. Timothy Brailsford, Phillip Costen, Trevor Huntley